Uke: (OO-kay) Practice partner who portrays the role of the attacker.
Mr. Rod Rehm is shown here as Uke on a Black Belt examination.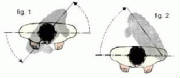 Taisabaki: (tie-sah-bah-key) Moving with angles of defense. This movement can in one step be countered to an offense.
This is often expressed in short-hand by referring to these as "X-movements."
Goshin-Jutsu (go-shin jut-sue) Science of Self-Defense. This is a sub-style of Awase Kenpo.