The founders of Kagitanjo-Jitsu are Grandmaster Herschel Schenck, Jay Yenne, who holds a master rank (4th Dan) in Awase Kenpo-jitsu, and Sensei Dan Douglas. Between them, they have over 45 years of training in the martial arts including Awase Kenpo-jitsu, Awase Goshin-jutsu, Hapkido, Aikido, and Judo.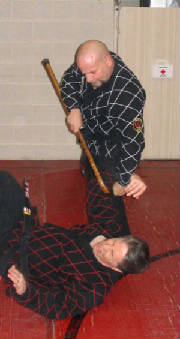 Special thanks go to Grandmaster Herschel Schenck (8th Dan), founder and chief instructor of the "Awase" fighting arts. As teacher and friend to the founders, Grandmaster Schenck gave them guidance and the benefit of his years of experience in the martial arts.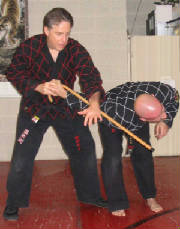 "The Art of the Cane"



For information on
Seminars or training,
please contact
Dan Douglas at (330) 722-8088