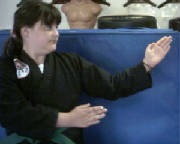 Bent Arm Principle: The arm is bent at a 45 degree angle. This position prevents injury and hyperextension of the joint. It aligns the technique to the centerline, and presents a shock absorbing principle and an angle of deflection against your opponent's blow.
Breath Control: Breathe in through the nose, pushing air down to the tanden. The rate of breathing is proportionate to the technique. Breathe out through the mouth, concentrating the exhalation on the most strenuous portions of the technique.
Similar principles of breath control are seen in other athletic arenas, such as weight lifting and yoga. This aspect of your training is very important not only to the overall effectiveness of your technique, but to your safety as well. Holding your breath is a common problem among students, and can be harmful.